Bloke In A Field
…. offers better current affairs insight than the £3.74 billion BBC.
5G. Is it safe?
The infiltration of foreign interests into UK politics…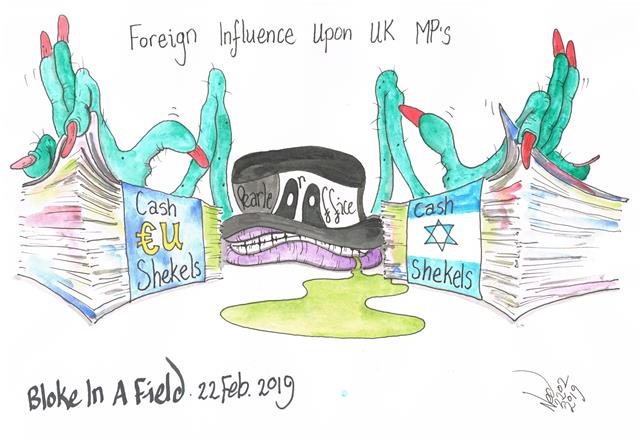 Israel Lobby: Anti-Semitism battle in UK Labour Party
https://www.aljazeera.com/news/2017/01/israel-lobby-anti-semitism-battle-uk-labour-party-170113073206692.html
Macron legislating to make any criticism of Zionism is anti-Semitic hate speech
Zionism is an extremist religio-politico organisation
Theodor Herzl:
https://en.wikipedia.org/wiki/Theodor_Herzl
Had Jeremy Corbyn been captured on video having the same discussion as Joan Ryna…. all hell would break loose for association and bribery with a foreign entity.
Bring down any MP's critical of Israeli agenda… particularly against Palestinians.
Chuka-Upah Oomoonoo MP Streatham
Lucretion Borgia MP Liverpool & Wavertree
Mike's Grapes MP Ilford South
Chris Leslie MP Nottingham East
Angela Smith MP Penistone & Stocksbridge
The list of twits and twerps:
https://beta.parliament.uk/houses/1AFu55Hs/parties/UeAtkxYY/members/current
Ted Heath knew the UK would become a vassal state of Brussels in 1972
We need UK MP's who genuinely have the will of the people at heart.
We must address occult movements such as Common Purpose, Freemasonry, anyone with loyalty to a hierarchy above the public interest
UK Politics … A Narcissistic Swamp!
Previous Bloke In A Field:
Ratcliffe Has A Ratner Moment