Suffolk Wildlife Trust are cutting down trees. Knettishall Heath on the Suffolk-Norfolk border is a prime example. The Woodland Trust is cutting down trees. There is a policy to cut down trees nationwide directed by un-elected foreign parties such as CBD; the Convention on Bio-Diversity. Knettishall has inspired a website:
http://www.wood-wide-web.net/
Platforms are writing about the issue:
https://www.phacemag.com/brian-phook—wood-wide-web—save-the-knettishall-trees.html
The environmental scam Agenda 21 is manifesting in local ways and recruiting unwitting local people.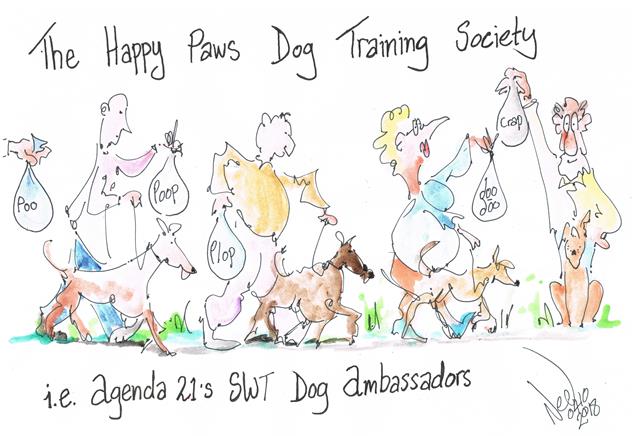 Apparently,
Suffolk nature reserve no longer dogged by disturbance:
http://www.eadt.co.uk/news/suffolk-nature-reserve-no-longer-dogged-by-disturbance-1-5404964
The project apparently involves society members volunteering as "dog ambassadors".
Now general public, breathe in, breathe out. Good people; note my gender diverse noun.
Next, walking. One foot in front of the other, then bring the other foot in from of that…. very good. That's called walking!
Now, pick up your dog's faeces in your plastic bag and deposit in an appropriate bin whereby lots of little packets of of faeces in their individual plastic bags can slowly degrade all together within a larger plastic bag. But, ssshhhh, don't tell SWT Ambassador Sir David Rottenborough that you are touching plastic; he might seek a few more £million to make another BBC taxpayer funded extravaganza about the disease that roams upon planet earth called the human being.
",… Waveney District Council had enacted a Public Space Protection Order that related to dogs on the site, adding an extra layer of provision, but the ambassadors' "dialogue" with the dog-owning community since they began patrols in 2015 had proved "pivotal" in promoting responsible and sensitive dog behaviour on the reserve."
Oh jolly good; cultural Marxism thrives within the countryside.
"Happy Paws Dog Training Society chairman Mark Willeard said: "We have about 12 ambassadors, the majority are from Happy Paws, and it has been a very positive experience all-round for us. We've been able to educate people as to why responsible dog behaviour is so important and how it can help the wildlife on the reserve and we will be continuing our involvement here. We've made lots of new members as a result of this project and we can teach them the skills they need to bring their dogs to the reserve and we can help them in general.
Really, how we survived in the countryside before the Suffolk Wildlife Trust, goodness knows.
"The ambassador scheme would continue to help the reserve in the future – and would stand it in good stead for its hoped-for extension which was the aim of the trust's £1million Broads appeal, which currently stands at about £850,000."
Ah yes, money. Lots of of it. Keep paying up general public, keep paying up! The 'Al Gore-Obama-Rottenborough-the science is a done deal-carbon cult' is not 'science' or a real deal. It is a political ideology, a scam to put it bluntly. But hey, if you believe in it, what can I do?